EVENT PHOTOGRAPHY
We provide Event Photography which is also commonly known as Corporate Photography. It is one of the most primitive way to showcase your business and product. Often said, a picture speaks a thousand words. Equipped with experiences, skills and facilities for the task, you just need to sit back, relax and enjoy the pictures later. There are more than thousands of choices for photographers out there. But the moments and images our photographer captures, are the reasons why we are the top choice for these assignments. You can never replay nor re-enact that particular second when your company CEO goes on stage to receive an award or to initiate an official ceremony. Being able to deliver is not just about handling the camera well. There are so much art in this. Being instinctively sensible to the surrounding conditions, composition of subjects / products, timing every shot to perfection are our key to present the photos at your shoot. We are the Official Photographer for many occasions such as press release, product launch, seminar, conference, official ceremony, product shoot, aerial photography or wedding.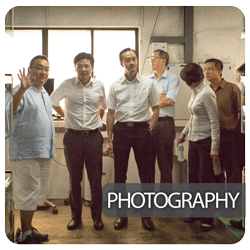 EVENT VIDEOGRAPHY
Apart from our event photography works, Event Videography  and Corporate Videography is also one of the popular service that our clients engage us for. With our well-equipped setup for VIDEO PRODUCTION, any type of Videography is definitely at our finger tips. Our team of video production crew led by our creative director, will definitely showcase the best moments. It takes plenty of show experiences to deliver an excellent level of presentation. From seminar, conference, press release, concert, music performance, play to even wedding, you will definitely receive a video highlights that you will be proud of. Our clients often mentioned that our 1st draft looks like like it's the final version !
WHAT WE PROVIDE
CORPORATE EVENT PHOTOGRAPHY

EVENT PHOTOGRAPHY

SEMINAR PHOTOGRAPHY

CONFERENCE PHOTOGRAPHY

PRODUCT PHOTOGRAPHY

AERIAL PHOTOGRAPHY

CORPORATE PHOTOGRAPHY

TIMELAPSE PHOTOGRAPHY

PORTFOLIO PHOTOGRAPHY

WEDDING PHOTOGRAPHY
RELATED SERVICES WE PROVIDE
FASHION PHOTOGRAPHY

FOOD PHOTOGRAPHY

CORPORATE EVENT VIDEOGRAPHY

EVENT VIDEOGRAPHY

CONFERENCE VIDEOGRAPHY

SEMINAR VIDEOGRAPHY

AERIAL VIDEOGRAPHY

PHOTO EDITING

PHOTO ENHANCED POST PRODUCTION

VIDEO POST PRODUCTION
PHOTOGRAPHY PORTFOLIO
Product Photography with Onsite Photoshoot Studio Setup
Corporate Photography – Outdoor Photoshoot
Corporate Event Photography – Minister Visit
Conference Photography – Namic Aerospace Summit @ MTA 2017
Event Photography for Event Namic Conference 2017 at Pan Pacific Hotel
Corporate Event Huawei Product Conference at Broadcast Asia @ MBS
Food Safety Asia Conference as Corporate Event Photographer at Suntec City
Event Photography – Rima S Private Party
Landscape Photography
Fashion Photography – Vivianjo
Corporate Photography – Family Portrait
Lifestyle Photography
Pre Wedding Photography
Actual Day Wedding Photography – Bernard & Bella
VIDEOGRAPHY – VIDEO RECORDING PRODUCTION
The term of videography also known as video recording production didn't exist until the mid 20s. Videography is a term derived by film makers who were using dSLR cameras to perform video recording. In the past, producing a video / film used to be costly and manpower intensive. After the inception of digital media, film / video directors were given the ability to record video footage through codecs onto transferable media like SSD hard drive, compact flash and SD card. Hence this has shorten the production time by almost 40% as compared to producing film / video in the late 90s. Videography has grown into a common term to be known as a synonyms to production of video.
TYPES OF VIDEOGRAPHY
CORPORATE EVENT VIDEOGRAPHY

EVENT VIDEOGRAPHY

CONFERENCE VIDEOGRAPHY

SEMINAR VIDEOGRAPHY

CORPORATE VIDEOGRAPHY

 AERIAL VIDEOGRAPHY

WEDDING VIDEOGRAPHY
TYPES OF VIDEOGRAPHER
CORPORATE EVENT VIDEOGRAPHER

EVENT VIDEOGRAPHER

CONFERENCE VIDEOGRAPHER

SEMINAR VIDEOGRAPHER

CORPORATE VIDEOGRAPHER

AERIAL VIDEOGRAPHER

WEDDING VIDEOGRAPHER
UNDERSTANDING ABOUT EVENT PHOTOGRAPHY
We are a media production agency that provides Event Photography and Videography for our clients.  Event Photography is the documenting of an occasion through photography production. Our photographer are specially trained and works to a stringent checklist on delivering captivating images to you. Firstly, you will need to provide a brief description and agenda for your project. It can be conference, seminar, corporate , product launch, training, opening ceremony, celebration, party and even wedding. Knowing the number of attendees and their profile will provide us with better insights on planning for an adequate coverage.
Our Event Photography service includes post production of the images. An excellent award-winning photography consists of great composition and also excellent digital image post production skills. For a full day shoot, our media content producer will spend nearly 4 days, working tirelessly in front of the workstation to deliver what you see in our images. It takes hard work, practice, experience, time and artistry to bring you the finesse in our photography.
DREAMBOX STUDIO
We specialize in Video Production, Music Production, Photography, Sound Design, Web Development and Digital Marketing. With our Video Post Production, Recording Studio and Audio Post Production suite, your production is our pride. Located in a bustling city like Singapore, we work tirelessly pushing through boundaries to deliver our best. Regardless of any video, music, photo, sound design or media that you have created, they speak 24 hours a day, 7 days a week and 365 days a year even while you are resting. From providing creative ideas, media production or digital marketing, we are the team you can rely on for a dynamic and eclectic production.
ABOUT US
As Media Content Producers, DreamBox started with the vision of integrating ideas into creative media content, regardless of platform. Bearing no constrains on perspectives and interpretations had allowed DreamBox to make anything possible. Apart from having its own facility, DreamBox has carved an image for itself, gradually taking position as a media agency covering your needs. Created for the regional markets, DreamBox has established as being dexterous in the field since its inception. Serving various clients from several industries ranging from multi-national companies, small-medium enterprises to even successful individuals, being critical to details and their adherence in delivering the best interpretation has brought them to where they are today. That is what seen as the utmost priority, to provide innovative solutions in conveying key messages to the masses. With an experienced management, supported by a team of energetically talented professionals, DreamBox has the capability of tailoring needs in correspondence to your wishes; which eventually transform ideas into effective values for your company. Being a popular choice amongst, DreamBox truthfully aims to penetrate with outstanding products which are agreed upon.
CLIENTELES & PROJECTS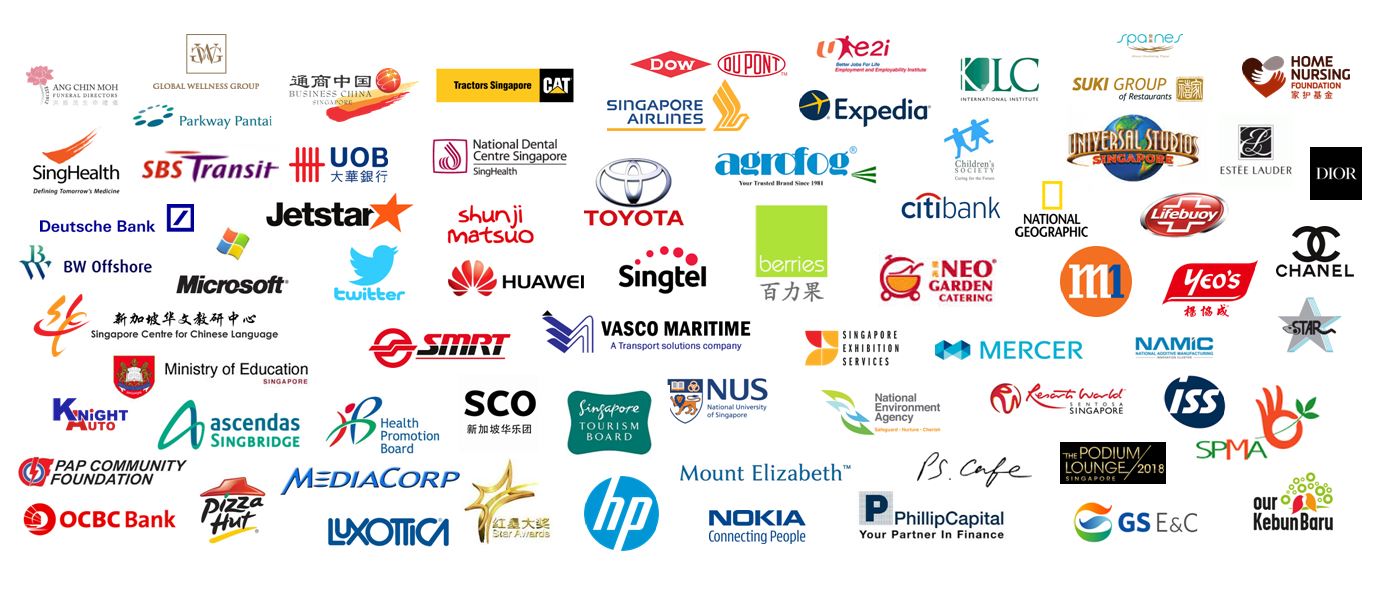 Build brands and increase sales by engaging Singapore's Leading Video Production Company. We also provide Video Production, Recording Studio, Event Photography, Web Development, Digital Marketing and Online Advertising. Digital Advertising is a growing need in every business, so is digital marketing. With digital marketing and advertising pairing up with our media production, we help you generate revenue that put you as a market leader ahead of your rivals. Our team provide the best Event Photography and Videography services across Singapore. Event Videography is a great way to remember events of all nature. Livestream Video Production provides accessibility of information over the internet during and after the actual day. Video Streaming allows multiple user to view broadcast online. From producing Brand Song to advertising jingles, our Recording Studio may be used to record Advertisement, Voiceover or Music. Geared with a Video Post Production capabilities, we provide Video Editing service. Recording studio is for onsite recording, location recording, Music production, Sound Design and Voiceover Recording. We create radio commercial, tv commercial for advertising needs. We are fully equipped to provide Videography and Videographer.