RECORDING STUDIO – AUDIO POST PRODUCTION
We provide Recording, Music Mixing and Mastering from our Professional Recording Studio. Onsite Recording and Audio Post Production are also popular choices. Sound is always a myth to many people. Most would proclaim that it's just about mixing levels. In professional context, it covers a full range of dynamics to how every detail would be sufficient to entice listeners. A bad mix often sound "stucked". To get a good or balanced sounding production would require time. It is often overlooked by many musicians. A good mix will be dependent on the complexity and exquisiteness of the sound production.
Best way to SOUND RIGHT is to START RIGHT.
It would be a huge price to pay for when you had a wrong start.
Recording Studio that delivers the sterling quality for your sound and music mixing
You may want to check out MUSIC PRODUCTION, VOICEOVER RECORDING PRODUCTION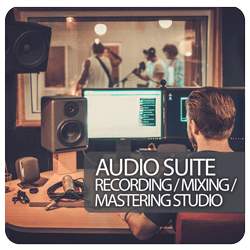 SOME OF OUR PAST WORKS ON RECORDING, MIXING OR MASTERING
RECORDING STUDIO
It is an audio production facility for recording and mixing. Specifically designed to achieve optimum acoustics, whether in terms of isolation, diffusion or absorption of reflected sound, any of the previous mentioned can drastically affect the sound information recorded.
Recording studio is used to record musician, voice-over artist for advertisement or dialogue replacement in film, television or animation and even foley. Our recording studio consists of an isolation booth, where the recording takes place and a control room, where the recording engineer and producer usually operate. Our setup has recorded countless works.
MIXING
Mixing will sum the multitrack recording down to mono, stereo, or even in surround. It would require expertise than the usual skills of track levelling, equalization, stereo panning or adding effects. Any minor adjustments can have dramatic impacts on how the dynamics that would be heard.
Music Mixing is performed by a mixing engineer or music producer. With more engineers and independent artists mixing from a personal computer, most are unaware that the critical secret of mixing lies in the costly digital hardware system and the expertise of calibration that delivers the final results.
MASTERING
A form of audio post production, processing the recorded audio from the final mix to various publishing platforms. Mastering is a crucial gateway between production and consumption and, as it involves technical knowledge, as well as specific aesthetics. Results still depend upon the accuracy of monitoring equipment and environment. The experience in equipment calibration for mastering also plays a very important role.
Mastering engineers may also apply corrective equalization and dynamic compression in order to optimise sound translation on all playback systems like CD Player, iTunes, Youtube, Broadcast TV and Radio.
OUR SERVICES
Recording Studio
Onsite Recording
Location Recording
Music Editing
Music Remixing
Vocal tuning
Mixing
Music Mixing
Mastering
Mastering for iTunes
TYPES OF USES
Military Band
Brass Band
Symphony Orchestra
Chinese Orchestra
Choir
Ensemble
Musician
Musical
Voiceover Talent
Producer
MUSIC PRODUCER
Terrence studied music production under Mr Bruce Swedien, a legend in the music industry with 13 Grammy nominations and 5 awards under his name. Bruce, who is one of the 2 producers for Thriller by Michael Jackson. Learning from the master who has produced for jazz greats like Count Basie, Duke Ellington, Dizzy Gillespie, Lionel Hampton, Quincy Jones etc and with pop/contemporary works including artistes like Jennifer Lopez, Paul McCartney, Diana Ross, Barbera Streisand, Donna Summer, Sarah Vaughan and Bjork etc was definitely a humbling responsible experience.
The foray in the United States for Terrence has also opened doors for him to further his vocal producing knowledge with world renown vocal instructors who taught Ray Charles, Barbara Streisand, Michael Jackson, Taylor Swift, Paramore, Stefanie Sun and more.. His extensive travel to 26 countries allowed him to amass invaluable musical experience in different cultures and ethnic groups. The exposure has enabled him to have different perspective on producing.
Today, Terrence has vocally trained and produced for artistes amongst many other individuals who has sought his knowledge. One of the students whom Terrence has personally groomed and produced, Jarrell 黃俊融, was recently bestowed with praises in Taiwan and acknowledged as 'Singapore's pride' and 'child prodigy'. Terrence produced many of Jarrell's competition performances like 鳳飛飛 <<敲敲門>>﹐張雨生 <<我期待>>﹐ Justin Bieber <>﹐ 楊培安 <<我相信>> in an international singing competition (Taiwanese Variety Show Million Star, 華人星光大道). These performances won accolades from the judges and have made Jarrell caught the attention of respected professionals like David Tao (陶喆) and Matilda Tao (陶晶瑩). Thys's work on Jarrell has received a personal acknowledgement from David Tao, who sang praises on his impressive job done in producing Jarrell 黃俊融.
Through his portfolio of experience in many parts of productions, Terrence always believe in focusing on the basics to achieve infinite media interpretation to bring joy to the audience. He will also be the main producer in charge in Dreambox Studio. With the state of the art equipment and techniques, Terrence is focus to bring you the best in every production.
DREAMBOX STUDIO
A CALL OR AN EMAIL AWAY
DREAMBOX STUDIO
We specialize in Video Production, Music Production, Photography, Sound Design, Web Development and Digital Marketing. With our Video Post Production, Recording Studio and Audio Post Production suite, your production is our pride. Located in a bustling city like Singapore, we work tirelessly pushing through boundaries to deliver our best. Regardless of any video, music, photo, sound design or media that you have created, they speak 24 hours a day, 7 days a week and 365 days a year even while you are resting. From providing creative ideas, media production or digital marketing, we are the team you can rely on for a dynamic and eclectic production.
ABOUT US
As a Creative Agency & Media Content Producers, DreamBox started with the vision of integrating ideas into creative media content and experience, regardless of platform. Bearing no constraints on perspectives and interpretations allowed DreamBox to make everything possible. Apart from having its own facility, DreamBox has carved an image for itself as a creative agency, media agency, video production house to even a design & build studio covering your needs in brand, corporate, investor, public relations (PR) communications, advertising, and marketing. Created for the regional markets, DreamBox has been established as being dexterous in the field since its inception. Serving various clients from several industries ranging from multi-national companies, small-medium enterprises to even successful individuals, Dreambox is known for being critical to details, and their adherence to delivering the best interpretation at all lengths have brought them to where they are today. That is what is seen as the utmost priority, to provide innovative solutions in conveying key messages to the masses. With an experienced team of directors, supported by a team of energetic and talented professionals, DreamBox has the capability of tailoring needs in correspondence to your wishes; which eventually transforms ideas into effective values (in terms of investment & revenues) for your company. Being a popular choice amongst, DreamBox truthfully aims to penetrate with outstanding products which are agreed upon.
CLIENTELES & PROJECTS

YOUR SUCCESS IS OUR PRIDE
Dreambox Studio serves as an agency for Advertising, Public Relations, and Marketing Communications. Their diverse portfolio has displayed the passion for their clients to attain success in every campaign. With their experience and capabilities to deliver quality work, the power of information, communication, and media shall be at your fingertips.
Download ABOUT US | PROJECT LINKS | WHY US | FLAGSHIPS